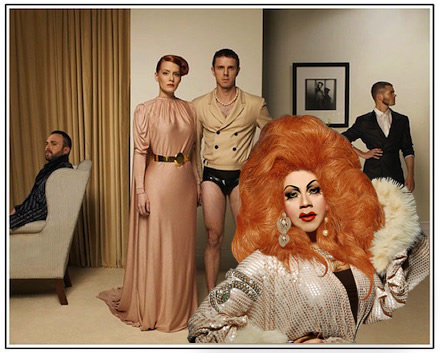 San Francisco drag legend
Juanita MORE!
packs a vintage 70's silver-makeup case full of enough house, techno and disco music to make anyone shake their groove thing on the dance floor. But, don't close your eyes or you just might miss her lip-synching an old-school drag classic from the booth. Famous for her shockingly stylish fashion assaults and her signature French scent of tuberoses and musk - this jewelry laden lady will keep you moving your ass all night long.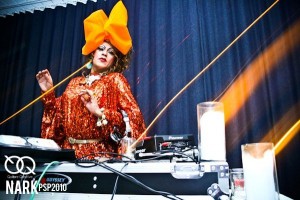 On her return to Seattle, for the first time in over a year, Juanita More brings all the best elements of the
San Francisco scene
packed away in her suitcase. In between raising countless funds for HIV/AIDS awareness and various organizations, cooking gourmet meals for her Moreboys, and donning a new couture
Mr. David
dress nightly, Juanita spins out the absolute
best
in generation-spanning house, disco and more. When traveling and photographing,
I never, never! miss a chance to see Miss Juanita.
And now, us rain-trodden, weather-beat Seattle-ites get a chance to absorb a little ray of sequined, California sunshine, for one night only at
The Baltic Room
.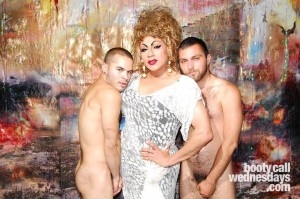 Gracing us with her presence at the new
trans-cultural monthly event, Lip Service (Third Thursdays at The Baltic Room)
, along side resident DJ Duo
Superthreat (Nark and Amoania)
, it will be a night not to be missed! Also, there will be a special
live jewelry construction and display showcase by Altimira and Elizabeth Patterson Jewelry
, constructing crystal and bone-laden necklaces for you, immersed in their own little shrine.
To keep your thirst away there will be
$3 Açaí Berry Kamikaze shots
, and to ensure your beautific visions are immortalized, the night will be covered by
Angel Ceballos of Robot Angel Photography
.
THIS THURSDAY!
Lip Service
At The Baltic Room
9pm, FREE BEFORE 11PM
$5 After
-Nark